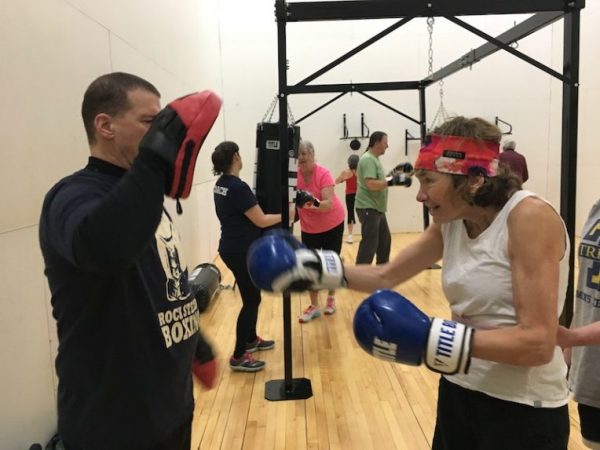 Laurie Hadlock was diagnosed with Parkinson's disease in 2009. She doesn't have much of a tremor, which is one of the classic symptoms, but she does have lots of coordination problems.
There are so many things Laurie loved doing that are nearly impossible now, like dancing and skiing. She also loves to exercise and recently discovered Rock Steady Boxing, a high-intensity exercise program based on training used by boxing pros and adapted for people with Parkinson's.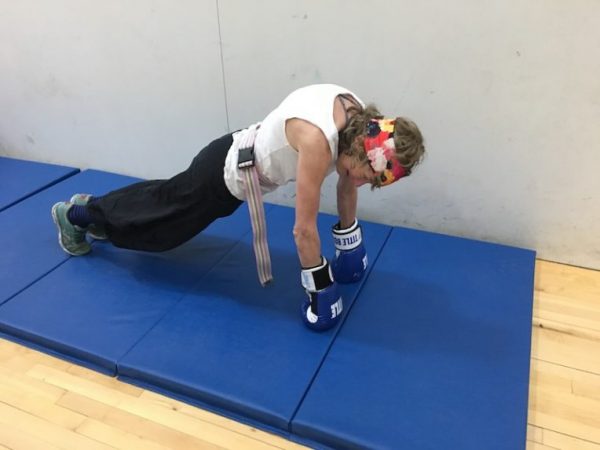 For most of the exercises, someone has to hold onto the gait belt Laurie wears around her waist so she doesn't fall over. But she can still pack a wallop. And check out how strong her arms are. She told me the plank is one of her favorite exercises because it's easy for her. There's not much she doesn't like about the entire 90-minute workout, which she does twice a week.
"When I leave, I feel much stronger and more positive about my situation." Laurie Hadlock
It's estimated that more than one million Americans have Parkinson's disease. Parkinson's is a chronic, progressive movement disorder. It affects neurons in the brain that are responsible for producing a chemical called dopamine. Dopamine helps control movement and coordination. With Parkinson's, dopamine production decreases, making it difficult for a person to control his/her movements.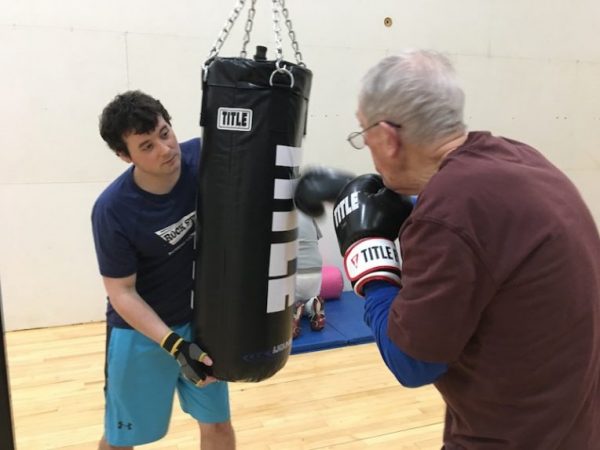 Zachary Hartman, a certified Rock Steady Boxing trainer, is the head coach for the program Laurie attends. It's a collaboration between Mid Coast Hospital and the Landing Y of the Bath Area Family YMCA. The classes are held at the Y.
Studies have shown that any exercise can benefit people with Parkinson's disease. Some suggest that high-intensity interval training may be even better.
"Our goal with high-intensity exercise is to get that dopamine release," Zachary explained. "There's evidence that shows with high-intensity exercise your brain will release more dopamine. We're seeing great success. People are building up their self-confidence, feeling better about themselves, and just having a good time which is a huge success on its own."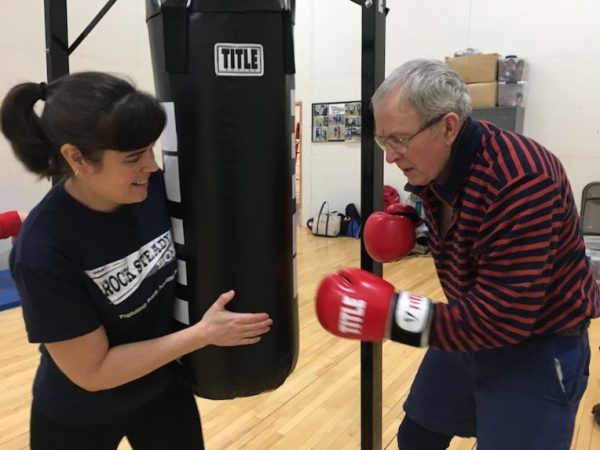 Physical therapist Jennifer Anderson, who is also a certified Rock Steady coach, agreed that the key to the program is its intensity. "It's high-intensity interval training based on boxing techniques," she explained. "That intensity is what promotes both the uptake of dopamine in your brain and the production of dopamine mostly in your gut, but also the rest of your body. It has to be at that high intensity — that get sweaty intensity."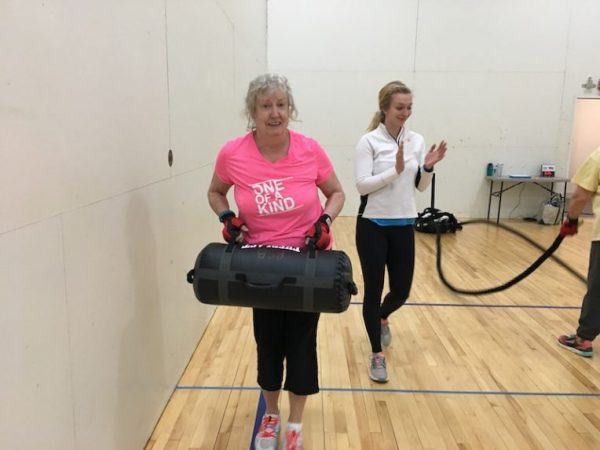 Karen Jones is happy to sweat. She's had Parkinson's for 21 years and her main goal is to do whatever she can to remain as independent as possible.
"[The program] helps me feel stronger all over. It also helps me with freezing up. I like the camaraderie and that it makes me sweat." Karen Jones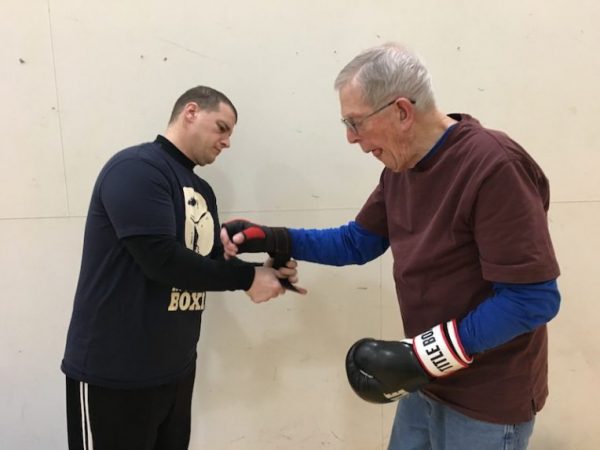 Don Harris, who's getting some help with his gloves from volunteer Andy Anderson, has been attending the program for about a month. He says it's more beneficial than a regular gym workout.
"I notice the difference. I have better balance. I'm glad I'm doing it." Don Harris
Andy sees people improve every week. "You can see it as they come back," he said, "whether it's their fighting stance or their punches — sometimes just their posture, the way they carry themselves."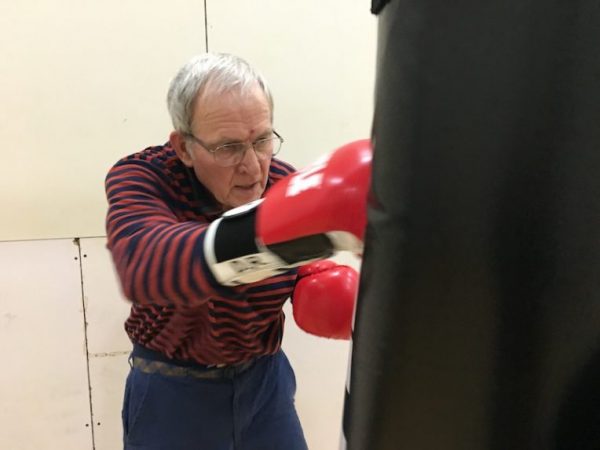 Doug Richmond has noticed a big difference. He was diagnosed with Parkinson's about three years ago and has been attending the Bath program since in started in December 2016.
"I feel more stable, have more energy and better balance and coordination. My strength is also improving. You're pushing your body to it's strength limits." Doug Richmond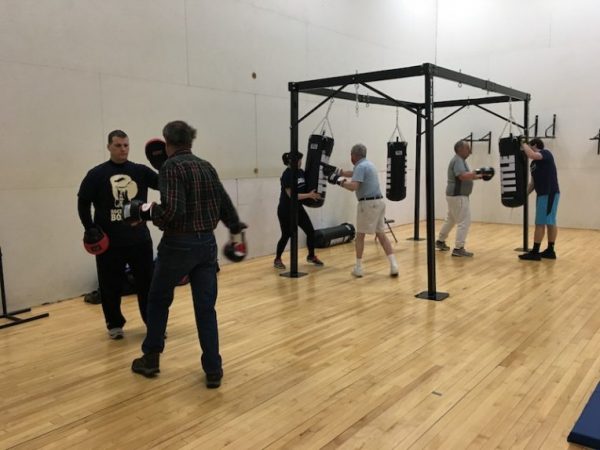 Each class begins with a warmup session after which participants split up into two groups. Half the class does a series of regular exercises while the other half does non-contact boxing. Then they switch.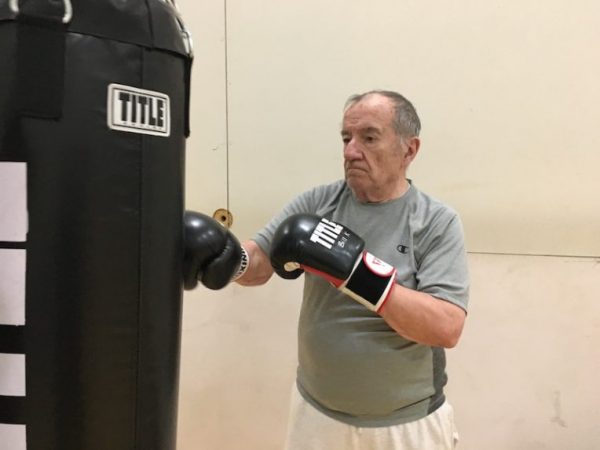 Jean Konzal's husband Bill has been attending since the program began and he, too, feels stronger. One of his problems is weakness. He also has bad knees.
"They're doing a lot of different adaptations to help him work around that, but certainly, his strength has improved. I see it when I see him doing some of the exercises and I see it at home, doing different tasks." Jean Konzal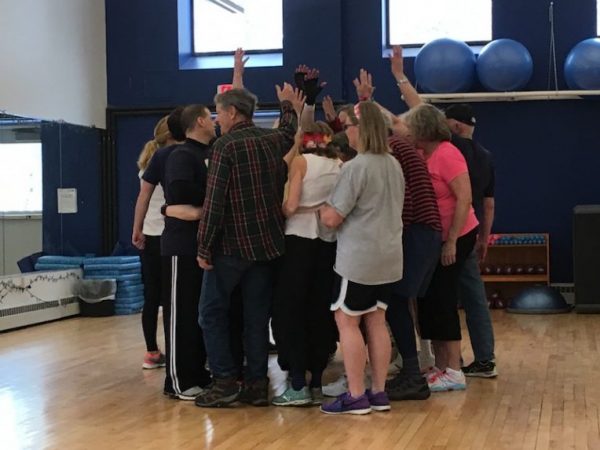 In addition to feeling stronger, better coordinated and more confident, participants say they also enjoy the camaraderie of being with a group of peers who have similar issues and understand what you're going through.
The Rock Steady Boxing program is a non-profit organization founded in 2006 by former Indiana Prosecutor Scott C. Newman. Newman, who has Parkinson's, began "intense, one-on-one boxing training a few years after he was diagnosed with early-onset Parkinson's at the age of 40."
Because he saw such dramatic improvements in his own health and agility, Newman decided to start a program for other people with Parkinson's disease. Rock Steady Boxing programs are now available around the country.
For more information, visit Rock Steady Boxing. For more information about the Mid Coast Rock Steady Boxing program in Maine, visit Mid Coast Health.
And take a moment to check out these short videos