Sunday morning, my husband and I joined other Gorham (Maine) residents to explore some trails behind the high school's baseball field. They're right in downtown Gorham and I'm willing to bet a lot of people in the community (including us) didn't even realize they exist.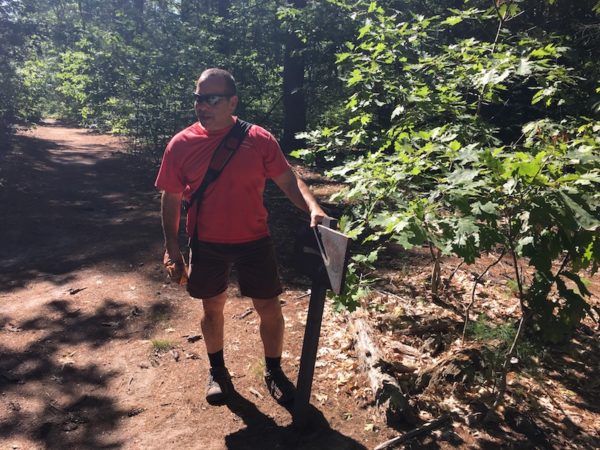 This is Phil Arena. He was our leader. A good one, too! He explained to us that some of the trails were used by students who ran cross country track. Some had made the sign several years ago to mark the trail. At one point, Gorham Railroad used to go through the area. Now it's just a crisscross of trails.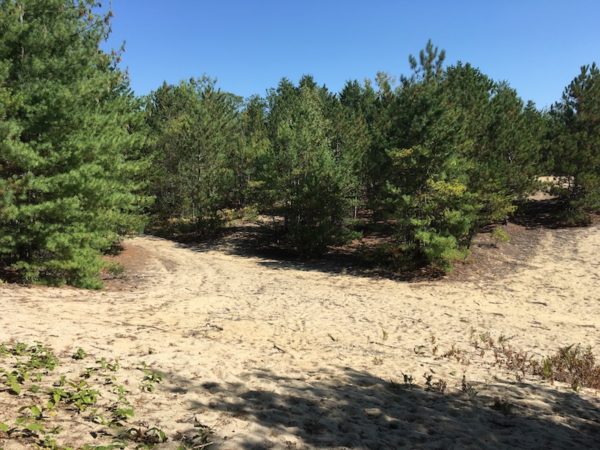 As we moved deeper into the woods, we came upon what looked like a desert. It used to be the town dump, now bulldozed and filled in with sand. Apparently, in years' past, high school students used to party here on weekends. Some stories to tell, I'm sure.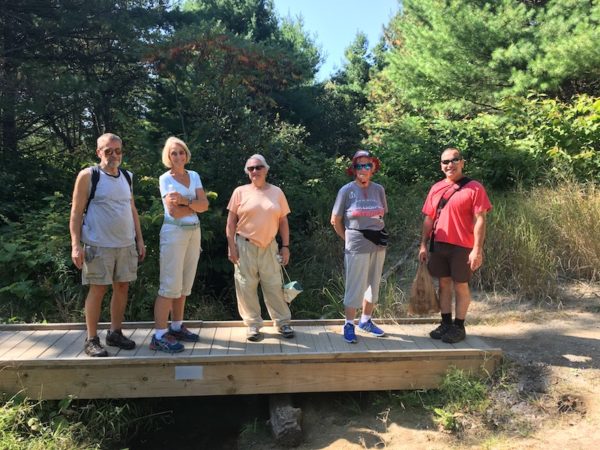 The hike we took marked the first day of a week's worth of Happy Healthy Gorham events. The goal of this week is to introduce residents to all that's available in their town to help them "move naturally." The entire community is invited to explore all of Gorham's trails for walking, biking, and hiking.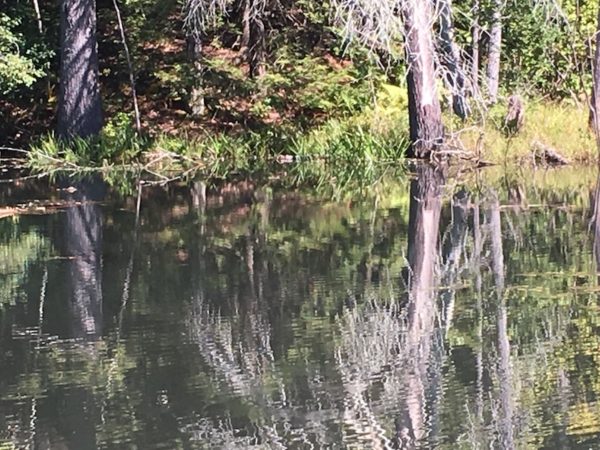 They can also participate in numerous free activities that encourage people to move naturally. There'll be some games as well — like a Gorham History Scavenger Hunt. Here's what it says about the scavenger hunt on the Happy Healthy Gorham website. "This game will require you to move naturally while you track down little-known facts about Gorham."

Do you detect a theme for the week? There is one. Moving Naturally. Which is exactly how we moved along the trail. The pictures I'm including are so you can join us on our hike. Not so you can see what you missed, but to show you what you can look forward to if you get the chance to go on your own hike.
Happy Healthy Gorham, which is a three-year initiative, is the brainchild of Dr. Scott Lovaas, Interim Minister at First Parish Congregational Church in Gorham and UCC North Gorham. With the help of other Gorham residents and business and several sponsors, Dr. Lovaas and parishioner Kim Arena came up with four week-long programs, each with a different theme.
September 2017 Moving Naturally
November 2017 Kindling Kindness
February 2018 Growing Gratitude
April 2018 Eating Well

Each will actively promote, educate, and elevate healthy living in Gorham," said Dr. Lovaas, "and will be multi-generational and multi-sensory. Happy Healthy Gorham draws upon Robert Putnam's work on social capital, Dan Buettner's work on Blue Zones, Michael Pollan's work on food justice, Jeff Speck's work on walkable cities and Robert Emmons work on gratitude,"
The ultimate goal is to make Gorham the happiest, healthiest community in Maine. If the events scheduled for Moving Naturally are any indication, Gorham is well on its way! Take a look at the schedule below. If you're in the area, do something really good for yourself and get moving! Or try something similar in your community.